The Dodge Challenger SRT Demon was recently unveiled ahead of the New York International Auto Show and its jaw-dropping 840-horsepower and 770 pounds-feet of torque 6.2-liter super charged V8 engine was the highlight of the day. This is the most powerful V8 engine ever put into a regular production vehicle. The last record was guarded by Dodge Challenger Hellcat that had 707-horsepower.
This is a huge jump in horsepower, so much that the Demon has already claimed the world's fastest run every by a factory production car in the quarter-mile. The final time was certified by the National Hot Rod Association (NHRA) at 9.65 seconds and 140 miles per hour. According to Dodge, this beast has the fastest zero to 60 time (2.3 seconds) for any production car. The crazy amount of acceleration G-force you experience in this car will give you goosebumps. If you don't mind your car lifting its front wheels off the ground, go ahead and mash that gas pedal down.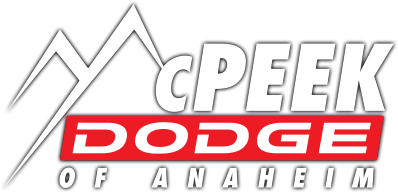 If you're planning on taking your friends for a cruise around, you'll have to make sure you pay the $1 fee to get back each seat. The Dodge Challenger SRT Demon comes standard with only one seat. Front passenger seat and rear seat were removed to reduce the overall weight. Dodge breaks down a few items and shows their weight.
58 pounds: Removed front passenger seat and belt
19 pounds: Used smaller, hollow sway bars
20 pounds: Removed trunk deck cover trim, carpeting, spare tire cover
55 pounds: Removed rear seat, restraints and floor mats
18 pounds: Removed mastic, body deadeners, insulators and foam
Only 3,300 Demons will be build with production starting late this summer - 300 for Canada and the rest for the United States, according to Fiat Chrysler Automobiles. If you have any questions about your next vehicle or need help shopping for your next car, come visit us at Mcpeek's Dodge of Anaheim located at 1221. S Auto Center Dr. Anaheim, CA 92806 or contact one of our professionals at (877) 389-8538. Check out our online inventory here or schedule a service appointment for your current vehicle. Come see why Mcpeek's Dodge of Anaheim is all about building a strong relationship of trust and loyalty.
---