When you want to build a car that is drag strip ready, you need to make sure the vehicle can handle the stresses that regular street cars never experience. Dodge has definitely taken those precautions for the Challenger SRT Demon and equipped the vehicle with "race-hardened" parts. We're just one month away from the debut at the 2017 New York Auto Show, but for now we have to rely on Dodge's teaser videos for information about this monster.

In the video above we get a glimpse of Dodge introducing the race-hardened parts. There are a few key parts that give this vehicle the extra edge it needs to preform at peak conditions. Its high-strength steel driveshaft has been increased 20 percent in thickness and provides 15 percent increased torque capacity. The heat-treated aluminum alloy and stronger gear material on the differential housing lets this vehicle control 30 percent more torque.
This vehicle isn't quite up to par with the Drag Pak Challenger, but it did have some work done to the suspension that will make it more capable down the quarter-mile than the Hellcat. Dodge wanted to take a tradition approach of a loose front suspension sans sway bar coupled with a stiff rear suspension to help shift the weight over the rear rubber. Instead they used modern tech to create a similar effect. The Demon gets lower spring rates front and rear, a hollow front sway bar and adaptive dampening shocks.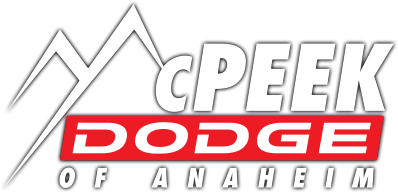 If you're familiar with wheel hop, you know it can damage the drive-train components as the tires rapidly gain and lose traction over and over. Dodge implemented their launch control system that will help lower torque output at the first sign of wheel slippage and on top of that Dodge added a four-point harness bar in place of the back seat to reduce the driver from hopping around.
If you have any questions about our vehicles or need help shopping for your next car, come visit us at McPeek's Dodge of Anaheim located at 1221. S. Auto Center Dr. Anaheim, CA 92806 or contact one of our professionals at (877) 389-8538. Check out our online inventory here or schedule a service appointment for your current vehicle. Come see why McPeek's Dodge of Anaheim is all about building a strong relationship of trust and loyalty.
---