Dodge's 2018 Demon - The Challenger SRT 
Dodge, McPeek, SRT, Demon, Hellcat, Sneak Peek, Challenger
If you were at the 2017 North American International Auto Show in Detroit, you probably heard that Dodge created a new pop-up website to give us a glimpse of their new product(ifyouknowyouknow.com). This website will update videos from their YouTube page with information regarding the new 2018 Dodge Challenger SRT Demon. If you're a huge fan of Dodge products and want to be the first to know about this vehicle, you have to check out this site.
Dodge will slowly be giving us information on this vehicle in a series of 12 videos that are planned to be released over the next 80 days, after that it's official reveal will be at the New York International Auto Show in April. After watching their teaser trailer "Reduction" you can see that this vehicle is losing some weight from the wheels, suspension, brakes, interior components, and the steering. Compared to its Challenger SRT Hellcat kin, we can appreciate this vehicle won't be weighting in at almost 4,500 pounds.
If you take a closer look at the X-ray rendered video of the car you'll notice the abnormally large wheel base. This will be a great improvement over the 275-width rear tires that are equipped on the regular Challenger SRT Hellcat that can barely grasp the 707 horsepower from the engine.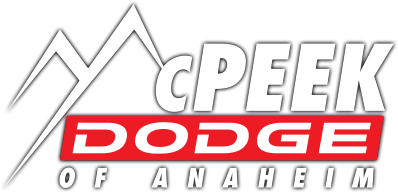 There have been some leaked photos of this vehicle on Instagram from illegal machine that shows an air intake on the hood that covers at least half of the total width, this is almost double the size of the previous intake on the SRT Hellcat. We also get a glimpse of some very luminous brake discs behind the dark rims, this could be a light weight material that helps improve the overall weight loss of the vehicle.
If you have any questions about our vehicles or need any help shopping for your next car, come visit us at McPeek's Dodge of Anaheim located at 1221. S. Auto Center Dr. Anaheim, CA 92806 or contact one of our professionals at (877) 389-8538. Check out our online inventory here or schedule a service appointment for your current vehicle. Come see why Mcpeek's Dodge of Anaheim is all about building a strong relationship of trust and loyalty.
---