How fleets are adapting to American urban migration
Congestion and Pollution Mitigation, Fleet Vehicles, Local Governments, Population Growth, Urban Migration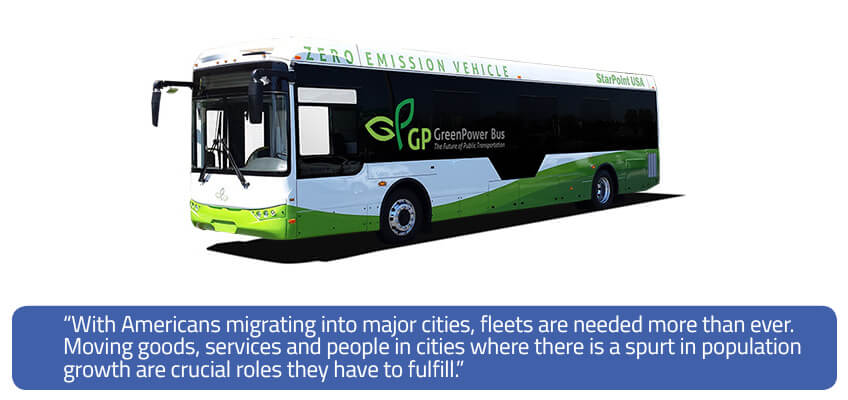 Photo credit: Greenpowerbus.com
With Americans migrating into major cities, fleets are needed more than ever. Moving goods, services and people in cities where there is a spurt in population growth are crucial roles they have to fulfill, writes Chris Brown of BusinessFleet.com.
Brown recently attended the annual Advanced Clean Transportation Expo held in Long Beach, CA and shares insights he gleaned from the seminars he participated in.
According to Brown, local governments are faced with the gargantuan task of "mitigating increasing congestion and pollution while improving accessibility and livability."
"Commercial trucks emit 50 percent of diesel particulate matter and 65 percent of greenhouse gas emissions, though they comprise less than 20 percent of vehicles on the road. In cities' close quarters, the problem is exacerbated," Brown states further.
Brown elaborates eight ways on how fleets are adapting to urban migration.
"One consequence for fleets is the adoption of electric vehicles in city centers." As an example, Brown discusses how transit agencies in Long Beach, CA and San Gabriel Valley in north Los Angeles County " are fleeting up with all-electric buses" and that The San Gabriel Valley Transit Authority is "installing induction plates at bus stops to keep buses charged on the road." "While traditional fuel isn't going away anytime soon, carriers are figuring out how to match the use case with the vehicle and powertrain — diesel fuel for long hauls, hybrid trucks for regional deliveries, and all-electric  trucks for in-city deliveries," Brown writes further.
"Shippers are experimenting with ways to avoid bringing large trucks into cities altogether."  According to Brown, this is done by dropping off a shipping container in the outskirts of a city and offloading packages for delivery on electric bicycles and tricycles.
"Manufacturers are designing trucks for urban environments." Because of their versatility in cities, sales for Low-cab forward (LCF) models are increasing. These vehicles "meet the demands of city fleet use — low average speeds, multiple stops, narrow streets and tight corners," writes Brown. "Specific hybrid and electric incentives in New York City and Chicago; and in states such as California and Maryland are helping to drive adoption," Brown adds.
"Fleets will be first adopters in testing the network that connects vehicles to other vehicles and to infrastructure." Although "connected vehicles" are still in the process of becoming driverless, but that may come sooner than later. The U.S. Department of Transportation is expecting all types of fleets (whether rental, commercial or government) to participate in pilot programs in New York City, Tampa, FL and Wyoming. The DOT is expected to release a specific vehicle-to-vehicle (V2V) and vehicle-to-infrastructure (V2I) guides this summer, says Brown.
"Fleets will become service providers to address the problem of 'urban deserts.'" According to Brown, "urban deserts" are "economically depressed areas with fewer resources for fresh food,  health care, education and banking," and that these services are being directly provided to these areas by purpose-built buses and vans.
"City planners are working with fleets to solve 'first mile' and 'last mile' mobility issues." To be able to accommodate those first and last miles to and from other public options, municipalities are looking into downsizing public buses  — from 60-person haulers to smaller vans, writes Brown. One of the challenges is creating a "mobility marketplace" — where fare tokens "can be transferred between transportation types using a smartphone app," Brown says further.
"Auto manufacturers are providing fleet to drivers in transportation networks." An example would be General Motors providing rental cars for Lyft drivers soon in four cities on a weekly basis.
"Manufacturers are growing their proprietary car sharing programs with owned fleet." According to Brown, "these partnerships are tied together under the heading of 'mobility' with an eye toward the future of reduced car ownership and driverless cars."
We have a huge selection of fleet vehicles here at McPeeks Dodge of Anaheim. Come visit us at 1221. S. Auto Center Dr. Anaheim, CA 92806 and take a test drive today or check out our online inventory here. If you have any questions feel free to give us a call at (877) 389-8538
---