Telematic needs determined by fleet size - Automotive Fleet survey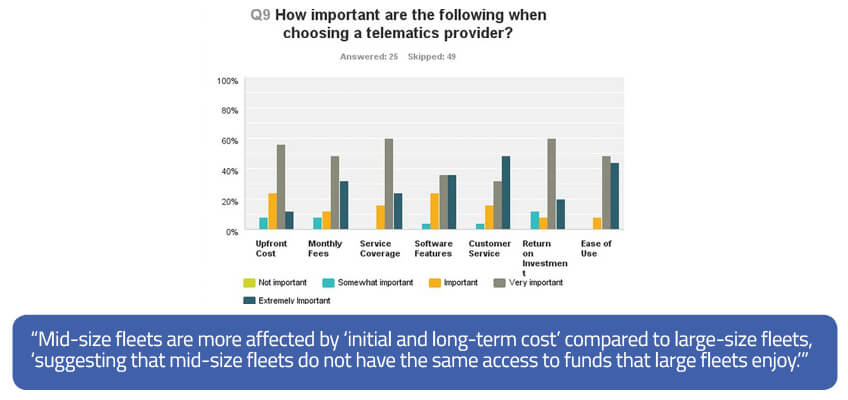 (Image credit: AF Research Department)
It is a given fact that varying fleet sizes have differing needs.
A recent Automotive Fleet telematics survey revealed that medium fleets (100-399 vehicles) utilizing telematics are looking at four major areas to work on in the following order:
- Improve productivity (50 percent)
- Decrease fuel consumption (45 percent)
- Decrease accidents (28 percent)
For larger commercial fleets (400 or more vehicles), the following are the crucial areas that they are aiming to improve on in this order:
- Decrease fuel consumption (75 percent)
- Decrease accidents (73 percent)
- Improve vehicle maintenance (65 percent)
- Improve productivity (58 percent)
"This data suggests that larger commercial fleets plan on using telematics to more directly reduce operating expenses by cutting down on measurable business expenses. Medium-size fleets, on the other hand, are looking for telematics to provide a wider scope of benefit that makes managing their fleet easier overall, not just reducing specific expenses," writes Dylan Brown of Automotive Fleet.
Brown further analyzes that larger fleets utilize programs which "maximize routing, schedule vehicle maintenance and accurately bill payroll" — concerns that usually arise with fleet expansion.
With regards to medium-size fleets, Brown makes an informed assumption, stating that they are "likely to have these systems in place and are therefore looking to telematics to provide comprehensive improvements in fleet management in areas outside of directly reducing business expenses."
In choosing a telematics provider, medium- and large-size fleets were asked to rank categories on a scale of 1-5 (with 5 being the most important, 1 the least important).
Some of the categories include: "upfront cost, monthly fees, service coverage, software features, customer service, return on investment and ease of use." Of the categories mentioned above medium- and large-size fleets gave the following scores, respectively:
- Upfront cost (medium-size: 3.72; large-size: 3.66)
- Monthly fees (medium-size: 4.04; large-size: 3.94)
- Service coverage (medium-size: 4.08; large-size: 4.25)
- Software features (medium-size: 4.05; large-size: 3.94)
- Customer service (medium-size: 4.24; large-size: 4.09)
- Return on investment (medium-size: 3.88; large-size: 3.84)
- Ease of use: (medium-size: 4.36; large-size: 4.22)
From these data, Brown analyzes that mid-size fleets are more affected by "initial and long-term cost" compared to large-size fleets, "suggesting that mid-size fleets do not have the same access to funds that large fleets enjoy."
Large-size fleets give more priority to service coverage, in terms of provider preference. Brown deduces that this may be caused by operations "on a more expansive geographic region" which would necessitate vehicle tracking.
Ease of use and return on investment were crucial categories for both medium- and large-size fleets.
Brown concludes his analysis with this statement: "All-in-all mid-size fleets are fairly similar to larger commercial fleets outside of a few nuanced areas. The differences in resources available generally account for any discrepancies in the need for telematics. One could justifiably argue that larger commercial fleets turn to telematics for more specific needs, whereas mid-size fleets prefer to use it as a more general fleet management enhancing tool."
We have a huge selection of fleet vehicles here at Mcpeeks Dodge of Anaheim. Come visit us at 1221. S. Auto Center Dr. Anaheim, CA 92806 and take a test drive today or check out our online inventory here. If you have any questions feel free to give us a call at (877) 389-8538.
---