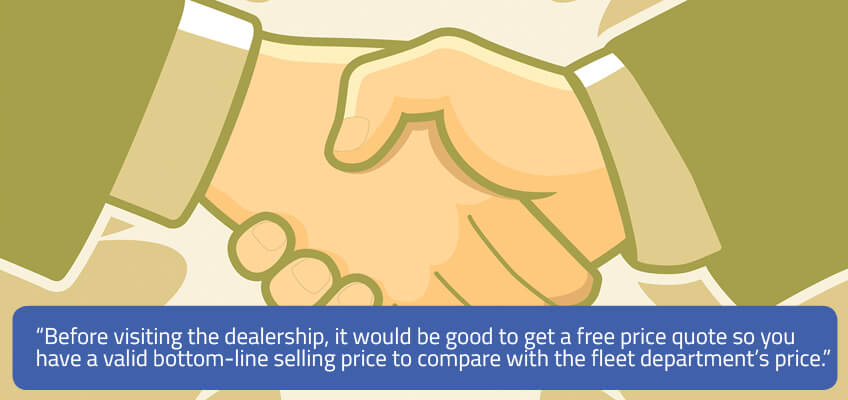 The lowdown on fleet departments
Unbeknownst to most people, the fleet department of a dealership can make transactions with individual car buyers.
Consumer advocate and former salesman Michael Royce shares some of his knowledge regarding this uncommon practice.
According to Royce, fleet departments are technically allowed "to sell direct to the public." They are just not permitted to advertise this privilege as there is a conflict of interest with the dealership's retail sales team.
In order to purchase a vehicle from the fleet department, Royce advises potential car buyers "to specifically ask."
Royce elaborates on the process through these simple steps:
Call the dealership's fleet department during regular weekday business hours and set an appointment. Make sure to ask for the name of the Fleet Manager. It is important to remember the fleet manager's name as many retail car salesmen would likely intercept phone calls to the fleet department. Ask to speak with the fleet manager directly.
Before visiting the dealership, it would be good to get a free price quote so you have a valid bottom-line selling price to compare with the fleet department's price.
Go to the dealership and ask for the fleet manager by name. Shake his hand and greet him warmly and try to be friendly and casual but keep in mind that you're conducting an important business transaction with him.
Inspect the vehicle you're planning on buying carefully. Check for dings and scratches and read the window sticker to ensure that this vehicle has all your preferred features and options. Don't expect the fleet manager to be as helpful or enthusiastic as a retail car salesman, his job is to sell cars fast and cheap. Make sure to take the car for a test drive.
If you're satisfied with the car after the test drive, go to the fleet manager's office and ask for the current selling price. The fleet manager would most likely talk in relation to invoice prices. Fleet department prices are based on a small profit over the invoice price (the dealer's cost) rather than on a discount from the window sticker price. This straightforward approach makes for an easier car buying experience. The fleet manager may also show you the vehicle's actual factory invoice.
If you agree with the price, close the deal with the fleet manager directly. He'll shake your hand, do the paperwork and bring you to the business office. If you do not agree with the price, thank him for his time and make sure to leave in good terms. Do the same process with other fleet departments in other dealerships. It would be good to compare prices, before you make a decision but note that selling prices vary for each fleet department, depending on their inventory.
We have a huge selection of fleet vehicles here at McPeeks Dodge of Anaheim. Come visit us at 1221. S. Auto Center Dr. Anaheim, CA 92806 and take a test drive today or check out our online inventory here. If you have any questions feel free to give us a call at (877) 389-8538
---