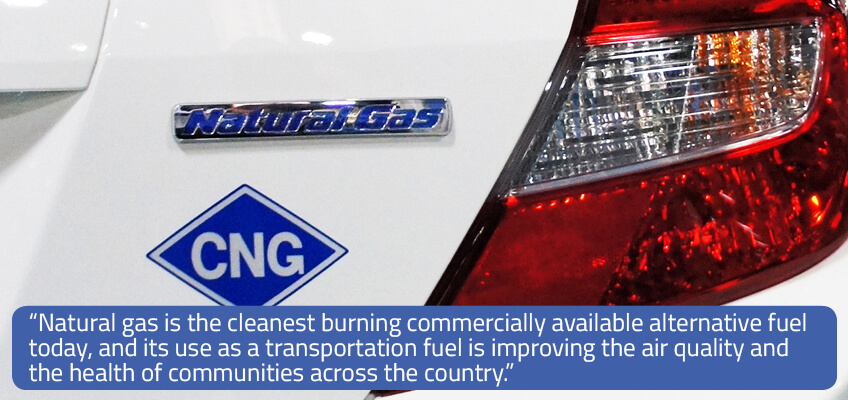 Natural Gas Vehicles: The Greener Choice
Have you been thinking of switching to a green fleet for your business? If so, read on.
According to NGVAmerica.com, "Natural gas vehicles (NGV) use proven, reliable technology to take advantage of our country's abundant natural gas reserves. The low cost of natural gas, combined with unprecedented public and private investment, has led to significant market growth and more vehicle and fueling options than ever before."
But just like what you would do for any other investment, it would be best to weigh the pros and cons of such an undertaking and figure if NGVs suit your business' needs and purposes. This article will discuss the advantages and disadvantages of NGVs for you to have a better understanding of how it works and if it fits the purpose you have in mind.
Vehicular Natural Gas
Vehicular Natural Gas is composed primarily of methane (CH4), "an energy dense single carbon molecule that produces far fewer harmful emissions than either gasoline or diesel, when combusted," says WorkTruckOnline.com.
It is the same "blue flame" being used for heating, water heating, cooking and other domestic uses. "While most natural gas used today is a fossil fuel extracted from deposits found deep within the earth, a growing amount of renewable natural gas produced from landfills, sewage plants and agricultural waste (aka bio-gas or bio-methane) is being utilized, including by some fleets."
Proponents of natural gas believe that "it is a viable path for the United States to achieve greater energy independence now and in the foreseeable future."
NGVA Director of Market Development Stephe Yborra believes that "the existing and growing U.S. reserves of well gas and bio-methane are more than enough to absorb tremendous growth in the transportation sector."
NGVs have internal combustion engines similar to those that run on gas and diesel. Most use spark-ignited engines but there are quite a number that use compression ignition.
"Light-duty sedans and pick-ups and some smaller medium-duty trucks use spark-ignited engines that may be either dedicated (runs exclusively on natural gas), or bi-fuel (designed to run either on natural gas or gasoline, but not both at the same time.) Nearly all spark-ignited medium- and heavy-duty engines run exclusively on natural
The benefits of NGVs
Foremost of course, is the environment-friendliness of NGVs — "natural gas is the cleanest burning commercially available alternative fuel today, and its use as a transportation fuel is improving the air quality and the health of communities across the country. NGVs significantly reduce greenhouse gas (GHG) emissions and other smog-producing emissions, when compared to gas and diesel vehicles," says NGVA.
While NGVs "have a higher incremental cost due to the expense of specialized fuel systems and fuel tanks, the low cost of natural gas fuel relative to diesel and gas means there is a short payback period before realizing significant savings over the life cycle of the vehicle," NGVA says further
Why NGVs?
Senior Analyst for Pike Research Dave Hurst says: "Corporate and government fleets are the strongest adopters of NGVs. More and more fleet managers are attracted to the lower fuel costs of natural gas, in addition to the opportunity to reduce their vehicles' carbon footprint."
Senior Vice President for AT&T Global Fleet Operations Jerome Webber asserts that "CNG vehicles provide a reduction in carbon emissions - by approximately 25 percent compared [to] traditional gasoline vehicles. That supports our corporate commitment to reduce our impact on the environment. We also expect a decrease in our overall fuel costs, especially as gasoline prices continue to trend upwards. Historically, CNG is 30-40 percent cheaper than unleaded gasoline, so adding this many CNG vehicles to our fleet will have a positive impact both economically and environmentally."
Years ago, the need for fueling infrastructure used to be a hindrance. But according to NGVA, more companies and organizations have been stepping in and getting involved in the funding, designing and construction of natural gas refueling stations. There are now 1,640 CNG and 123 LNG natural gas stations operating in the United States — a mixture of CNG fast-fill, CNG time-fill, LNG and L/CNG stations which provide applications for which they are best suited.
We have a huge selection of fleet vehicles here at McPeeks Dodge of Anaheim. Come visit us at 1221. S. Auto Center Dr. Anaheim, CA 92806 and take a test drive today or check out our online inventory here. If you have any questions feel free to give us a call at (887) 389-8538
---