Spice Up Your Holidays With The 2016 Dodge Charger R/T Scat Pack
2016, Dodge, R/T, Scat Pack, Charger, Package
With Christmas right around the corner, i knew when i saw the Dodge Charger R/T that this was the gift i wanted above all else. I checked out a few other vehicles including the Mustang GT and the two-seat Mazda Miata, but after doing some research i knew the the Dodge Charger R/T Scat Pack was the best bang for my buck. Dodge combined the R/T-level interior with the legendary 6.4-liter V-8 from the SRT-392 to create this incredible vehicle. This package delivers Best-in-Class 485 horsepower and 475 lb-ft of torque for under $40,000.
The design of the Dodge Charger Scat Pack is somewhat elegant, the mesh grille inserts give the car a crisp style while the exclusive Scat Pack grille badge adds the perfect touch to celebrate its racing heritage. The front hood scoop adds a nice touch to the design despite the fact that it doesn't directly feed cold air to the intake. The 20-inch machined aluminum and satin black wheels are visibly charming and the bright red Brembo brakes will remind you of Rudolph's nose. Just behind the front wheel the "392" badge will let passing vehicles know you got a massive HEMI under the hood.
The standard interior on the Charger Scat Pack comes with quite a few modern technologies. With a big portion of the cost going to the performance area on this vehicle, some people would expect a cutback on interior luxury but that's not the case here. You'll still get to enjoy power front seats, key-less entry, remote start, rear-view camera, multi-function steering wheel, a part assist system and a version of Uconnect running Dodge Performance Pages. The backseats are very roomy and provide a generous amount of leg room for grown adults.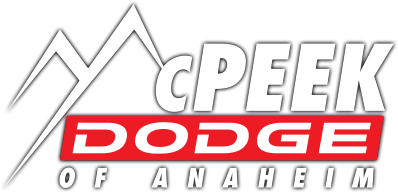 If you have any questions about this vehicle or need any help shopping for your next vehicle, come visit us at McPeek's Dodge of Anaheim located at 1221. S. Auto Center Dr. Anaheim, CA 92806 or contact one of our professionals at (877) 389-8538. Check out our online inventory here or schedule a service appointment for your current vehicle. Come see why Mcpeek's Dodge of Anaheim is all about building a strong relationship of trust and loyalty.
---